Perfectly in Tune with Your Needs
The #1 Video CMS — Now with a Series Module
PHP Melody is a self-hosted Video CMS which evolved over the last 9 years. SEO optimization, unbeaten security and speed are advantages you no longer have to compromise on.
A truly great CMS should help you save time and make your life easier not complicate it. Nobody enjoys spending time and money on inferior solutions. If you value your time, don't settle for anything but the best video CMS with a proven track record, constant support and updates.
Whether you're creating a personal or business video site, PHP Melody gets the job done. This is a no fuss CMS, fit for 2019.
Works on any hosting account. No nonsense features that you'll never use. Optimized for speed, ease of use and customization. Constant updates to keep your site ahead of your competition. Reassuringly sol >Simple pricing – buy and own for life, no monthly fees.
See your project come to life today, without any hesitations
Getting started today means you can start publishing videos in a matter of minutes, not days. Setting up your video site for the first time is both easy-to-do and straightforward.
Whether this is your first time installing a CMS or you're web savvy, the entire setup process will take around 15 minutes. or less. Each license comes with a detailed installation manual (PDF) to see you through the quick installation.
The fact that installation is possible on any hosting account, however basic is another unique characteristic of our Video CMS. Our customers have their video site up and running within the hour.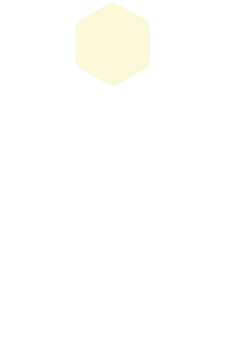 Convert views into real money. Make every view count.
Make money from day one. Copy & paste your ad code into the predefined ad zones and you're ready to go.
PHP Melody has a comprehensive built-in ad manager which covers all types of ads: classic banners, pre-roll static ads and pre-roll video ads.
Highlights from the built-in ad manager:
Pre-defined ad areas (header, footer, player, etc.). Detailed statistics and graphs on ad performance. Target any ads (classic, pre-roll, etc.) based on categories, sources, users, etc.

Customize the layout to your heart's content
You don't need a programmer to make it look good. This is a video CMS you can tweak and customize without editing a single line of code.
Theme changes including color scheme, page width and logo upload are done with a mouse click or two; in real-time for you to see. All this magic is always available in the comfort of your dashboard.
Tweak your video gallery without code editing:
Show/h > Set how many listing you need for your content. Adjust the v >Upload your site's logo.
And for those who need more, we invite them to get messy. The layout is clean, logically laid and the layout (theme) is separated from the PHP code for easy customizations.

Change the color scheme of your video site to match your brand. No code code editing required.
Search Engine Optimized and ready for 2019
The simple truth is that most CMS developers simply don't care about your SEO strategy.
Since the first release of PHP Melody (9 years ago) one of our top 3 priorities was SEO. That hasn't changed since then.
Besides having URL friendly links, great internal link structure, proper use of HTML5 and search engine guidelines, we've gone even further.
Markup Schema is one example where we've gone further. It is part of the new standard used by search engines to rank sites in their search results.
If SEO is important to you, choose PHP Melody and your SEO priority will be our responsibility.

Publish Any V >
Import videos from YouTube, DailyMotion and Vimeo
It takes just 3 clicks to add videos from YouTube.com, DailyMotion.com or Vimeo.com. That's true. Using the official APIs, you can search, organize and retrieve any video you want; in bulk or one by one.
Whether you're creating a niche video site or a personal video gallery, when it comes to importing videos, there is no substitute.
Highlights of video importing:
Search by keywords, username or playlists. Selective data importing (title, description, tags.). Inline editing the results before importing. Super-fast bulk importing takes seconds, not hours.
Did you know?
PHP Melody started out as a YouTube importer back in 2007.
That's just one year after Google paid 1.6Bn for YouTube.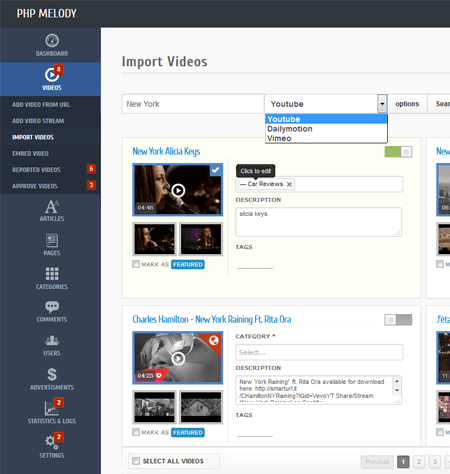 Importing videos with PHP Melody.
Upload your video or audio files and PHP Melody will do the rest for you
PHP Melody works with all your favorite video formats: flv, avi, mkv, divx, mov, wmv and mp4. The multi-part upload process guarantees uninterrupted uploads every time.
Planning to upload 3GB files? No problem, because there are no file size limitations. However, be mindful of your disk space requirements and make sure that you hosting account has enough disk space.
Planning to allow your users to upload videos? No problem. Registered users can add their own videos. The approval process can be fully automated or moderation-based. Furthermore, you can limit how many videos each user can upload/day or the size of each upload among other settings.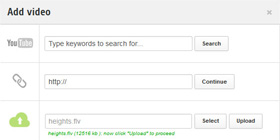 Upload dialog from the back-end
Automatic Video Embed
Unique to PHP Melody are the built-in presets for 40+ of the most popular video sites. This means that adding videos from Dailymotion.com, VK.com, Vimeo.com, etc. is done automatically for you. Copy/pasting data is not required when adding videos from any of the 40+ supported video sites.
But what if any of those videos is taken down or no longer works? For that purpose, we've built the video checking bot which automatically checks the health of your entire video collection and reports problematic videos.
You won't find any other Video CMS that can do this.
Traditional Video Embed
Embedding videos not covered by our "automatic video embed" presets can be added to your site the old fashion way.
Embedded videos are tightly integrated into your site's back-end and front-end. There is no difference when it comes to managing or displaying them on your site.
To get started, simply copy/paste the HTML or JavaScript code provided by the source and you're ready to go. PHP Melody goes on to automatically do all the player adjustments to make sure it fits in your site.
Live RTMP video streaming
Broadcast live to the web and mobile devices alike any RTMP stream. Bundled with PHP Melody are smart and capable video players such as FlowPlayer and JW Player. They enable live streaming of any RTMP feed.
For example, you can use your Wowza Media Server to stream content directly onto your site. There's no other software to install or configure. Add your RTMP link and PHP Melody will take care of the rest.
Similar to any other videos, live streams can be protected or made available only to registered users.
Если вам нужна мощная платформа для публикации видео или простая видеогалерея, все это можно сделать с помощью PHP Melody — оригинальной системой видео портала. SEO оптимизация, непревзойденная безопасность и скорость — вот те преимущества, с которыми вам больше не придется искать варианты других CMS.
Для добавления видео с YouTube.com, DailyMotion.com или Vimeo.com требуется всего 3 клика. Это правда. Используя официальные API, вы можете искать, организовывать и извлекать любое видео, которое вы хотите.
Рекомендуем также:
traffic-seo.ru — ТРАФИК ДЛЯ САЙТА НЕ ДОРОГО
BestNull.Info — Лучший форум для вебмастеров
n-torrents.info каталог торрентов!
Паблиш Украина — Информационный портал для мужчин и женщин, на украинском языке.
Больше баннеров
Каких материалов НЕ хватает на сайте?
Рипы
Графика
Купленное
Шаблоны
DataLife Engine
DLE шаблоны
DLE модули
DLE хаки
Релизы DLE
Всё для IPS
IPS скины
IPS модификации
Всё для XenForo
Релизы XenForo
Стили XenForo
Модули для XenForo
Всё для WordPress
Шаблоны для WordPress
WordPress плагины
Релизы WordPress
Всё для Joomla
Joomla модификации
Joomla компоненты
Шаблоны для Joomla
Всё для PrestaShop ° NEW
PrestaShop шаблоны
PrestaShop модули
Всё для OpenCart ° NEW
OpenCart шаблоны
OpenCart модули
Всё для vBulletin
Скины для vBulletin
Моды для vBulletin
Релизы vBuleltin
Хаки
Всё для uCoz
uCoz шаблоны
uCoz хаки
Графика для uCoz
Для веб-мастера
Программы
Различные CMS
Програмирование
Полезные статьи
Скрипты
Мобильные приложения
Шаблоны для сайта
HTML Шаблоны
Флеш шаблоны
Разные шаблоны
Всё для SEO
Базы каталогов и форумов
SEO софт
SEO советы
Платный раздел
Готовые шаблоны
Модули и скрипты
Графика и PSD
ProWebber INFO
Новости сайта
Кейген для DLE!
Последние комментарии
Связь с администрацией
Архив категорий
Всё для LogicBoard
Шаблоны для LogicBoard
LogicBoard модификации
Релизы LogicBoard
Разное для LogicBoard
Всё для SMF
Шаблоны для SMF
Релизы SMF
SMF модификации
Всё для LiveStreet
Шаблоны для LiveStreet
Релизы LiveStreet
LiveStreet модификации
Всё для Photoshop
Иконки
Смайлики
Клипарт
Стили
Кисти
Узоры
PSD
Шрифты
Видео уроки
Уроки
Размещение рекламы!
Последние комментарии:
Приложение классное как на русский их переводить? Подскажите
Как переводить данные приложение на русский язык, подскажите пожалуйста?
Как переводить данные приложение на русский язык, подскажите пожалуйста?
Как переводить данные приложение на русский язык, подскажите пожалуйста?
Ошибка! Приложение не было установлено.
verification_needed: License check failed.
это при ДЕМО-ключе нет установки приложений.
т.е. идиотим заключается в том, что можно 30 дней пробовать незнамо что, обновляться и все такое, а вот проверить в совокупности (мне например надо было подключит IP-телефонию) = невозможно без оплаты коммерческой лицензии. Т.е. подгоните нам денежек от 60к и более и только потом узнате что оно вам в корне не подойдет и надо искать что-либо другое
BonAqua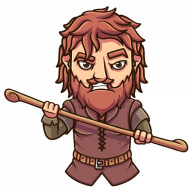 BonAqua
PHP Melody — это самостоятельная видео CMS, которая развивалась за последние 8 лет. Оптимизация SEO, непревзойденная безопасность и скорость — это преимущества, которые вам больше не нужно компрометировать.
Поистине замечательная CMS должна помочь вам сэкономить время и облегчить вашу жизнь, чтобы не усложнить ее. Никто не любит тратить время и деньги на более низкие решения. Если вы цените свое время, не соглашайтесь ни на что, кроме лучшего видео CMS с проверенным послужным списком, постоянной поддержкой и обновлениями.
Создавая личный или деловой видео-сайт, PHP Melody выполняет свою работу. Это не сумасшедшая CMS, пригодная для 2016 года.
Работает на любой учетной записи хостинга.
Никаких бессмысленных функций, которые вы никогда не будете использовать.
Оптимизирован для скорости, простоты использования и настройки.
Постоянное обновление, чтобы ваш сайт опережал конкурентов.
Устойчивая поддержка клиентов (8 лет и т. Д.).
Простое ценообразование — покупайте и владите на всю жизнь, без ежемесячных платежей.
Подробнее: